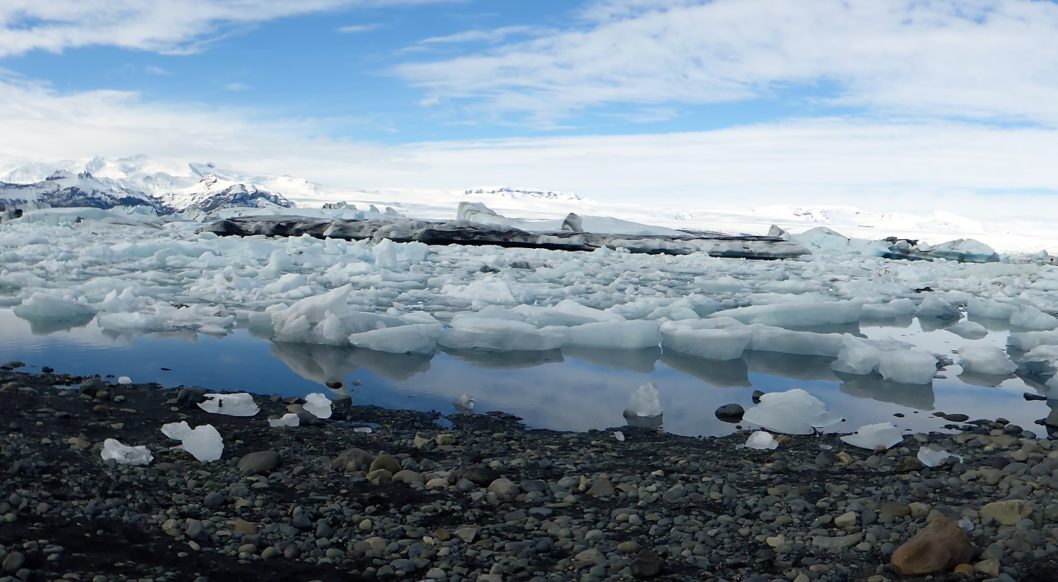 Jökulsárlón – Glacier Lagoon
I heard that a person cannot visit Iceland without checking out Jökulsárlón, or commonly known as the Glacier Lagoon. I have read about this place in advance of arriving in Iceland, and was super keen to check out this very majestic looking place during our second day of staying in Vík.
Getting There
Travelling along Iceland's South Coast on Highway 1 is a beautiful drive with plenty of scenery. As you make your way east bound from Reykjavík towards Vík, you will pass Eyjafjallajökull (Island Mountain Glacier). You may recall a volcano erupting in Iceland in 2010 that disrupted some air travel flights in Europe due to the mass amount of ash it spewed; that was Eyjafjallajökull. One of the tour guides I had during this trip told the group that this eruption put "Iceland on the map" in terms of tourism, and that Iceland's tourism industry has almost doubled every year since 2010. This explains why I have heard about so many people who have travelled to Iceland, or why many people I know want to go there. It is a very popular destination, and one worthy of seeing.
In order to reach Jökulsárlón, just stay on Hwy 1. It is roughly 193 km past Vík. The following are two photos I took along the route.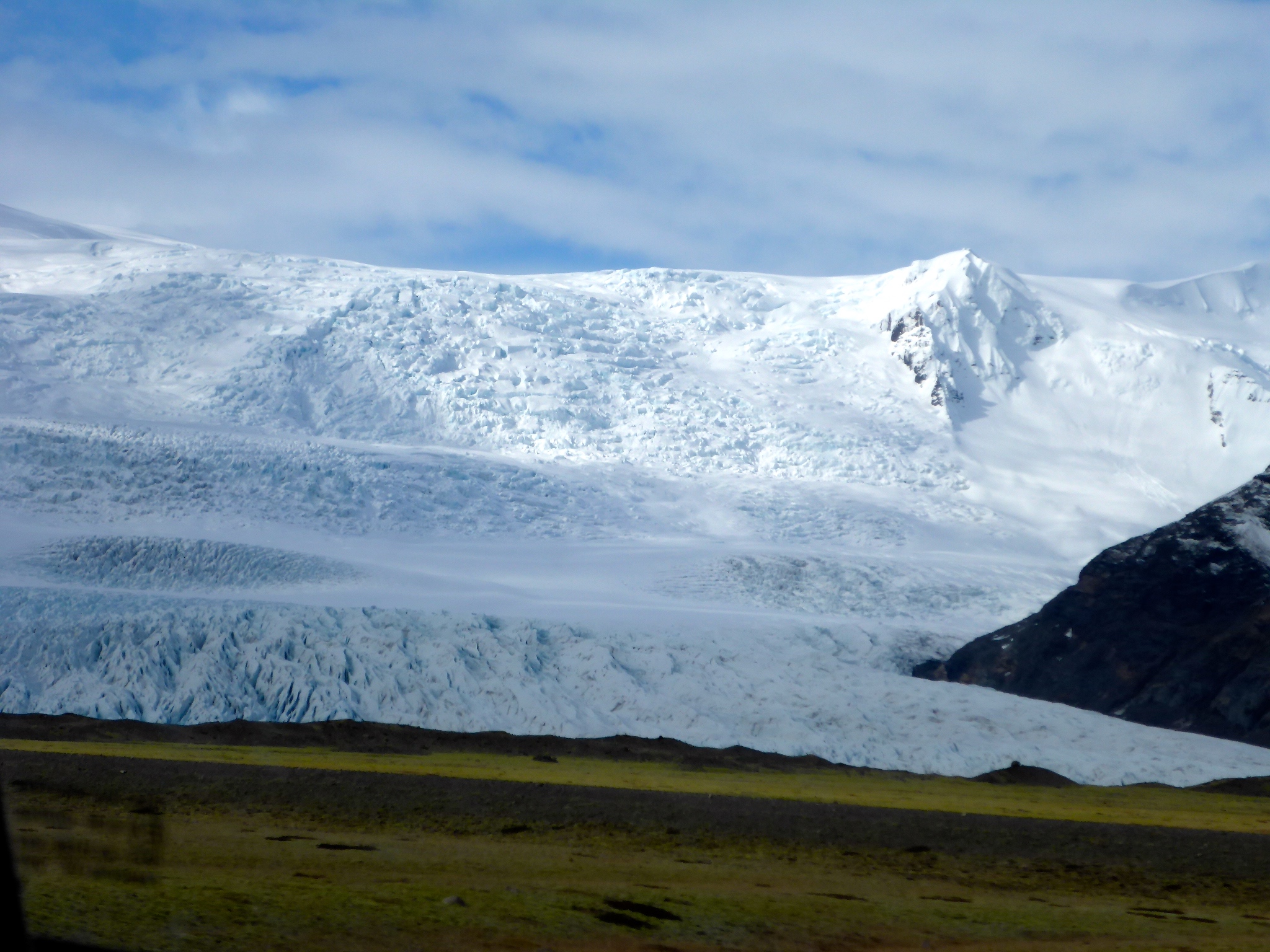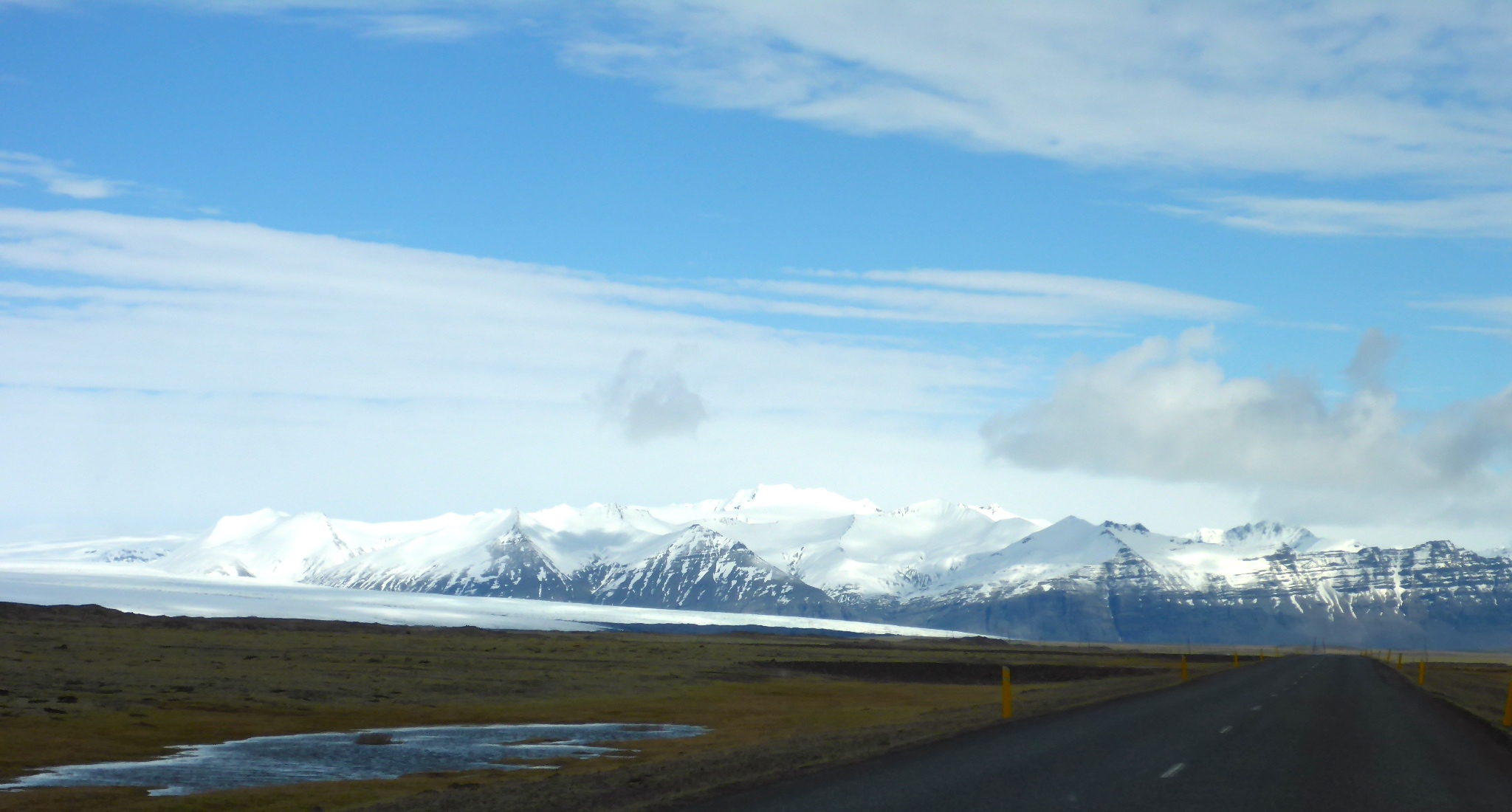 About Jökulsárlón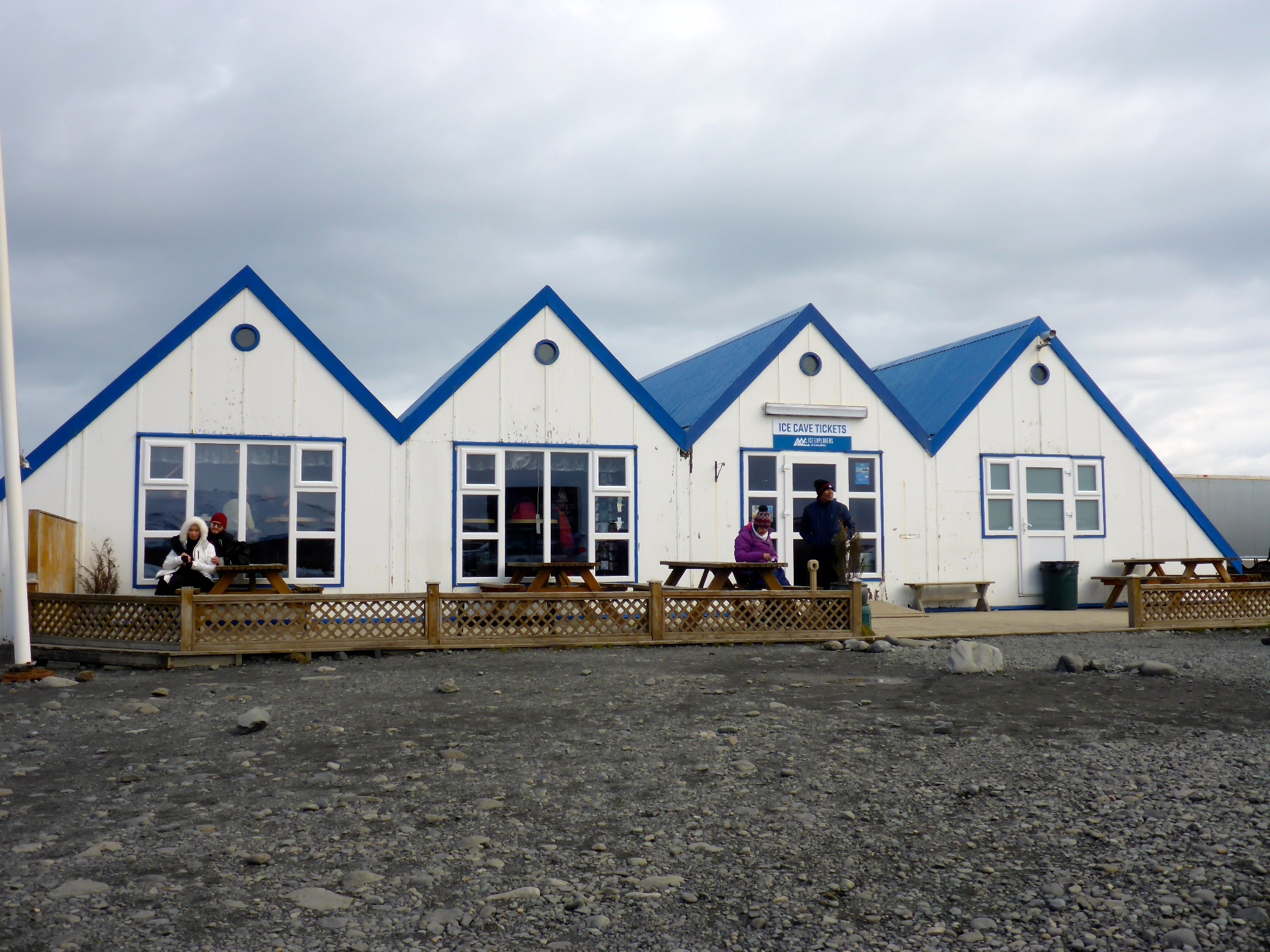 Jökulsárlón (Glacier River Lagoon) is approx. 370 km from Reykjavík. I was stunned as I pulled up to this location. I was so captivated with the landscape. Additionally, there are plenty of activities to do while here. For more information on the various activities, check out this website, or visit the Ice Explorers office (pictured to the left) at your arrival.
I was really wanting to do the Ice Cave Day Tour, but it is seasonal between the months of November and March. Unfortunately I went after the season had ended, so instead I settled for walking along the shoreline, and I allowed myself to be drawn into the natural beauty of this peaceful, surreal and majestic environment. It soothed my soul in a way I don't always experience during places I travel to. It was just so calming; I felt it was a truly blessed experience.
I also was wanting to learn as much as possible about Jökulsárlón, which is located partially along the edge of Vatnajökull National Park. What I learned is that the lagoon was formed due to climate warming resulting in large pieces of ice breaking off the glacier, Breiðamerkurjökull. These ice pieces are what you see floating in the lagoon. The lagoon itself is "up to 250 meters deep, which makes it the deepest lake in Iceland." The results of global warming has changed Jökulsárlón and Breiðamerkurjökull over time (as with most glaciers in Iceland and around the world), and it will unfortunately continue to change with rising global temperatures.
The following photos are from my walk along the shoreline of the Glacier Lagoon.

It is absolutely beautiful here, and when you don't hear people talking, it is very quiet and peaceful.

To the visitors who will be travelling here, please DO NOT be like some of the tourists I saw. There are very clearly posted signs around Jökulsárlón that say you are not to stand on the floating ice chunks for very obvious safety reasons. I also suggest not being those individuals, who were not only standing on the ice chunks, but also stomping along the edges trying to break off additional pieces. Please have more respect than some of the individuals I saw while I was visiting this place.

It is sad to know that some of these glaciers are going to be gone at some point, so you don't have to come along and destroy what is already there. We need to do more to protect mother nature and our environment, which I hope everyone is willing to do.

I believe it is important to preserve environments and respect all life on this planet as it is essential for future generations.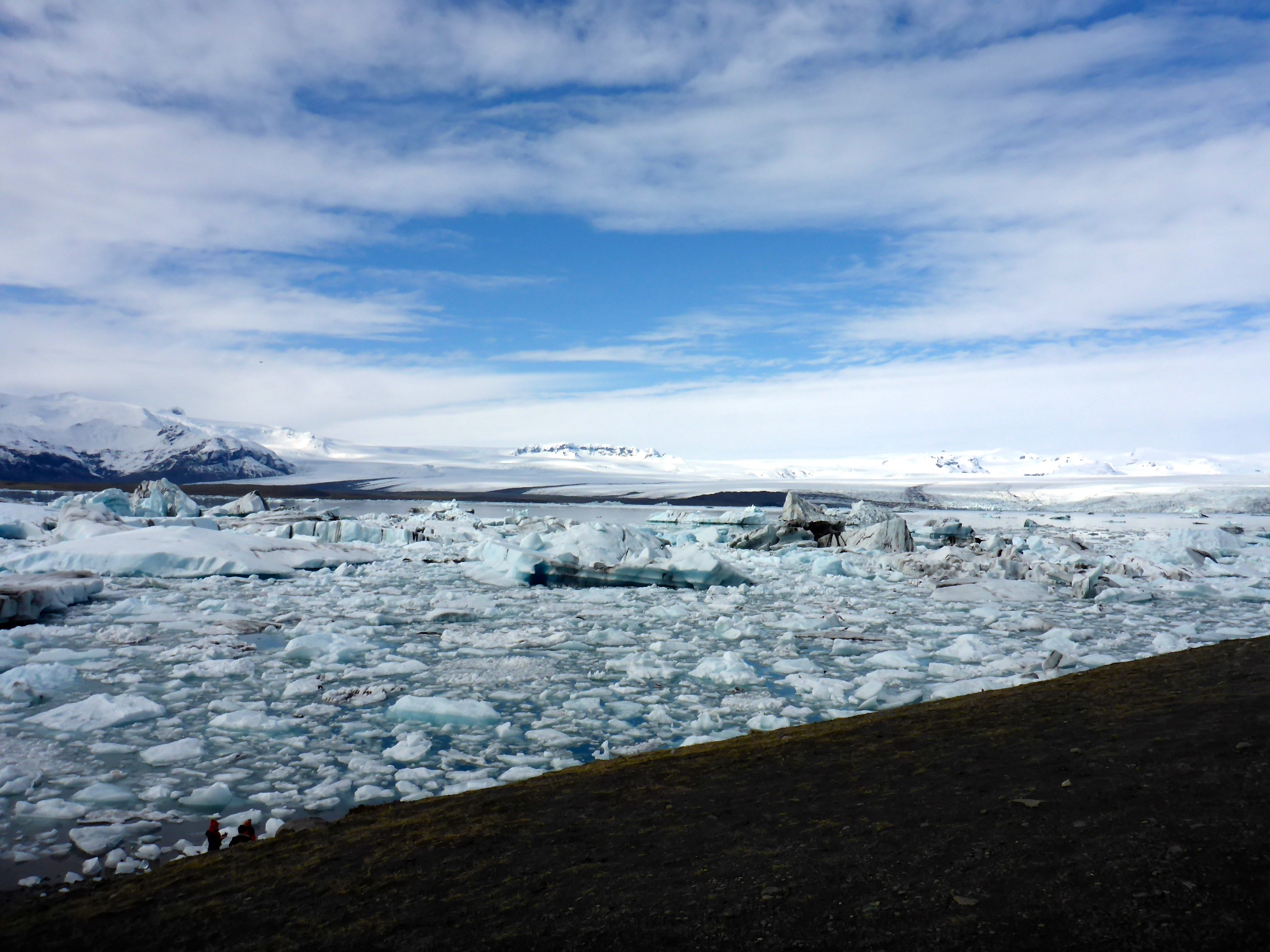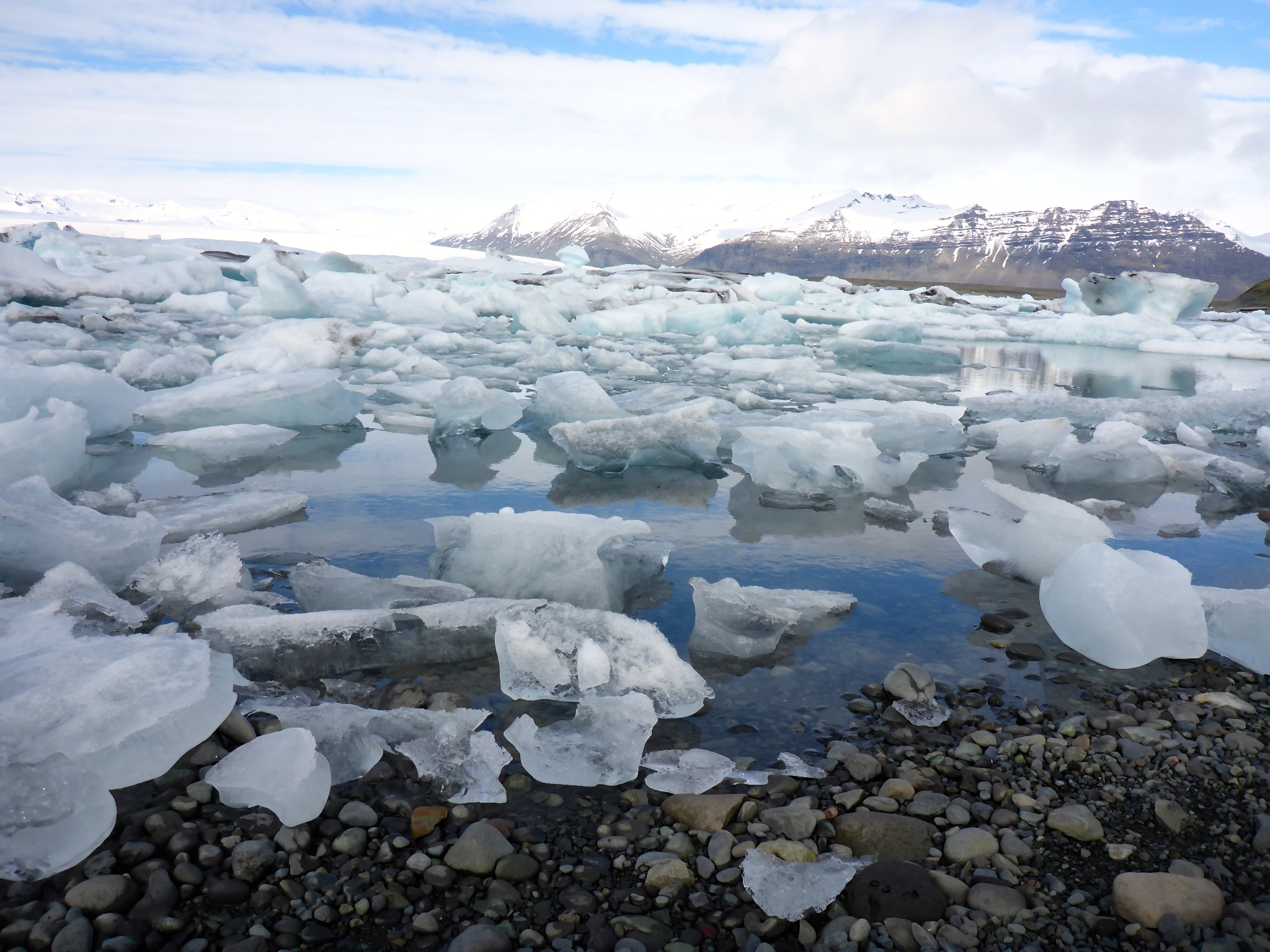 Now before I end this blog post, I just want to take the time to speak about the bridge pictured below, as I was not a fan of it. Like other bridges in Iceland, this has only one lane to cross it, and is located just before the entrance to Jökulsárlón. It is not light controlled, which I definitely think it should be. We spent a long time waiting to turn and cross due to the traffic that we had to yield to. So as a heads up, please be careful if you're driving.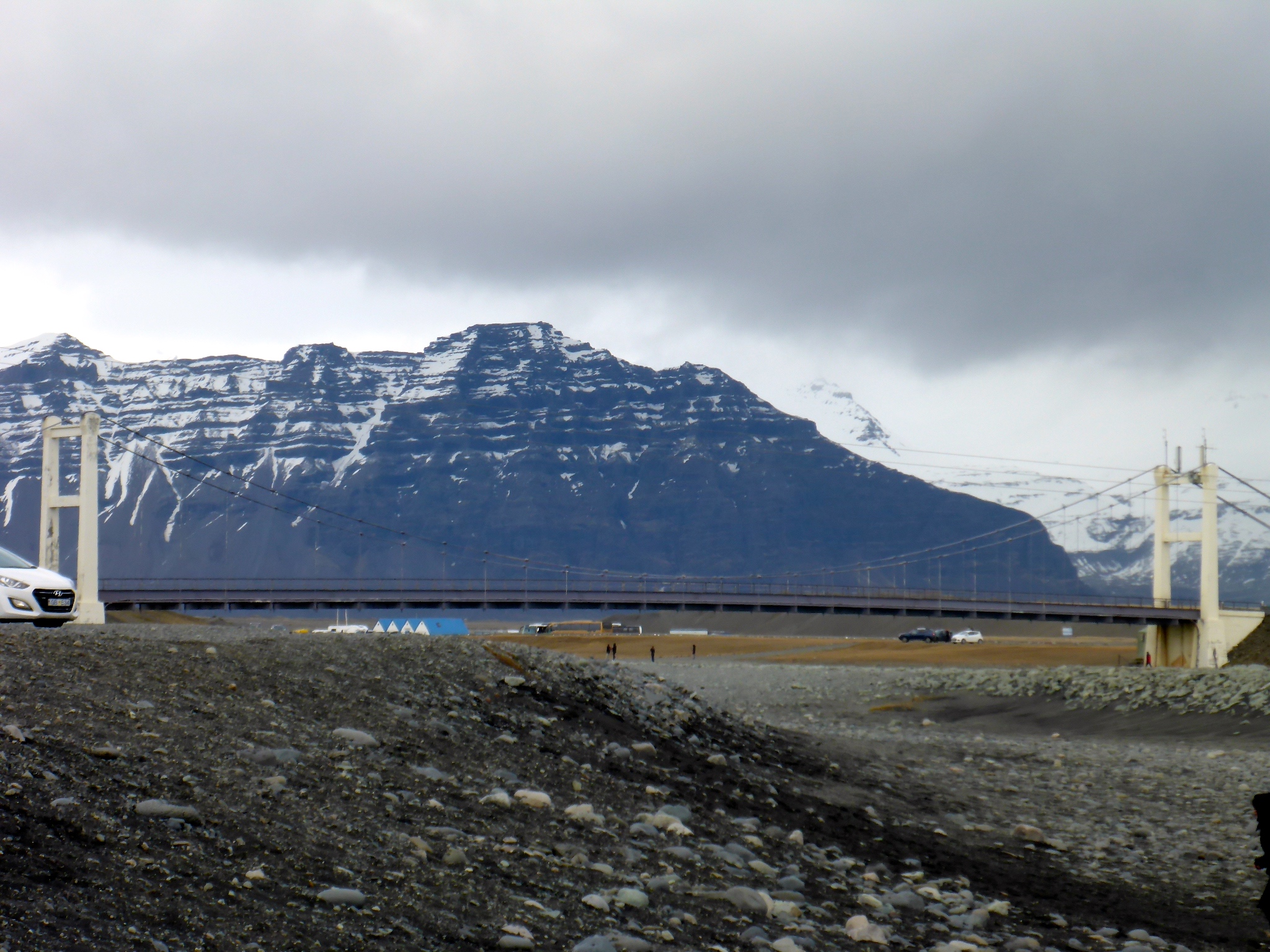 Anyways, thank you for reading! As always if you have any questions, comments, or thoughts then please don't hesitate to express them. You can also follow me on Facebook, Twitter and Instagram. Until next time…