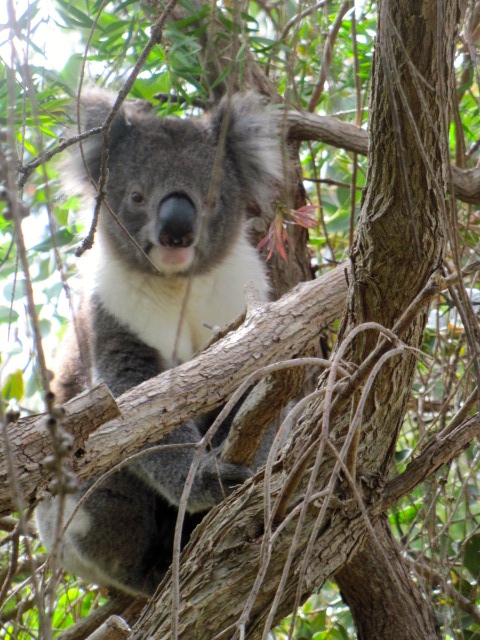 The Last Tour of Adelaide
Before I left South Australia for back home, I spent some time in the surrounding areas of Adelaide. This time it was to Middleton, Glenelg Beach, and the Seacliff Beach Hotel for some surfing, dining, and a wildlife encounter.
Middleton, South Australia
Middleton is a small, quaint town approximately 82 km south of Adelaide. It is situated between the towns of Port Elliot and Goolwa. It has a surfing school that I wanted to check out. The place is called Surf & Sun, and while there I decided to try the group surfing lesson.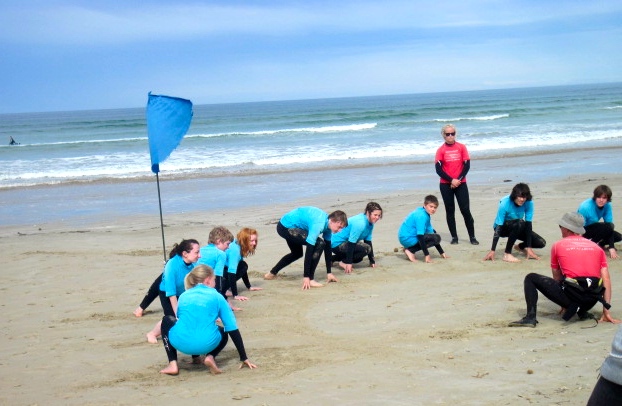 When I was in Margaret River, I had a one-on-one surf lesson, and as a first time surfer I liked the undivided attention my instructor Josh gave me. I thought it really helped me learn what I was being instructed faster than if I was in a group setting with other learners. However, the group session was also fun, and it offered additional supports and encouragement from those taking the lesson with me. Not to mention the fact that lessons are not only cheaper in groups than in getting a private lesson, but it also never hurts to recap surf safety, surf fundamentals, and ocean and wave awareness.
What I love about surfing in Australia is how easy it is participate as there are beaches and surf shops everywhere. With the surf lessons I took, I received a crash course in water dangers, how to choose waves, and techniques for paddling into a wave you want to catch, and then standing up to ride it. For those with mobility issues, I haven't seen modifications to surfing to make it more accessible, but there is BodyBoarding, (which may also be known as Boogie Boarding) where your belly is on the board. I looks neat, and although I have not tried this, it is something that I would like attempt at some point down the road.
The following are a few snap shots from my experience with Surf & Sun.
Glenelg Beach & the Seacliff Beach Hotel
Glenelg Beach is about 25 minutes by tram from Adelaide's city centre. Getting around Adelaide is quite easy and accessible for persons with disabilities, and I really enjoyed the convenience of their tram (you can also check out Adelaide Metro for getting around to other areas of the city and their accessibility).
There are plenty of sights to take in while in Glenelg. You can stroll along its fabulous jetty, consider swimming with dolphins, snorkelling, visiting the many shops or galleries, or you can check out a variety of places to eat and drink at. There are a lot of water based activities to do while in Glenelg, which is always one of my to-do activities when I travel if at all possible. However for this trip, I just strolled the jetty, swam in the ocean, relaxed on the beach, and walked around, looking into some shops along the way. For other things to do, check out Trip Advisor's list here.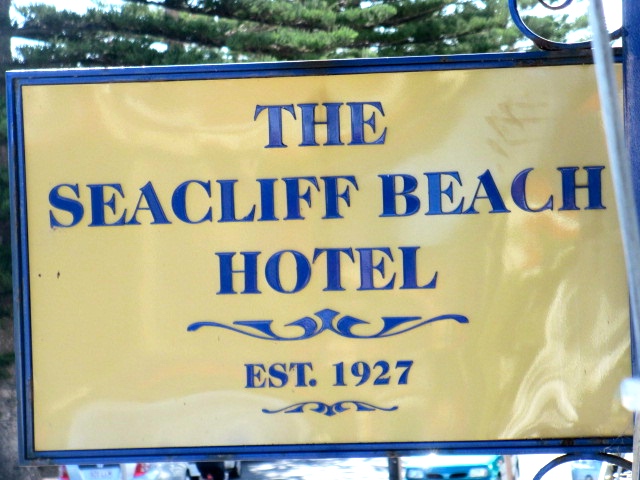 After talking to some locals, I was told to try out "the Cliff." No this was not a code word for cliff diving or anything like it, but rather a popular spot to hang out, eat, drink, and be merry! So off I went to check it out.
If you go further south of Glenelg Beach, you'll hit the Seacliff Beach Hotel along Esplanade. I had  a bite to eat and a drink as recommended, and I was surely not disappointed! The food was delicious, my cold drink hit the spot, and the view itself from my table was beyond spectacular.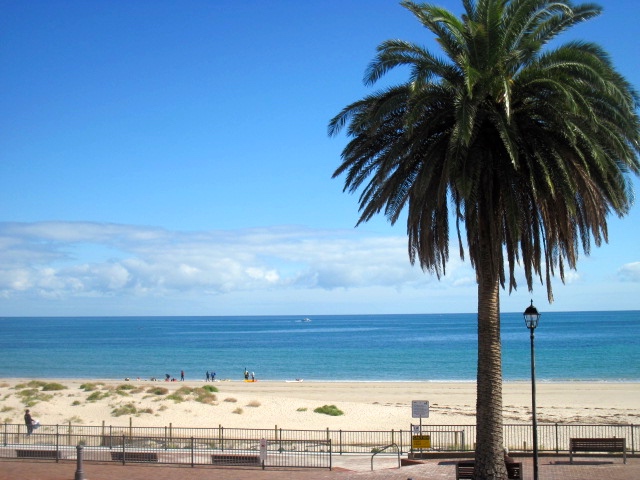 Afterwards, I went walking around a nearby neighbourhood and came across a wild Koala lingering on the outskirts of someone's home.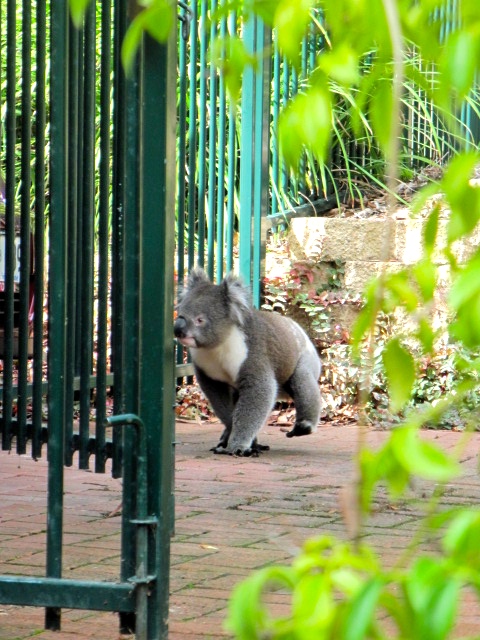 Their walk makes me smile, and of course, they are excellent climbers. So it didn't take long for this one to find a nearby tree. I found this situation much better for the koala than being on an urban road with vehicles nearby.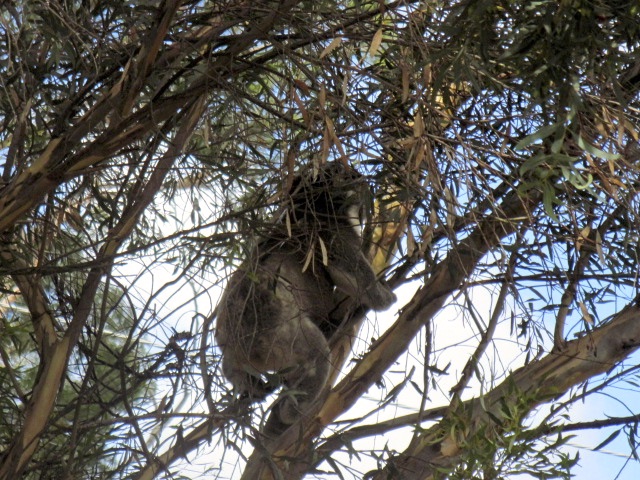 After following the koala from the house and seeing it climb the tree, I stayed around just to watch it. It seemed content with my presence as I kept a respectable distance. I caught myself thinking how unfortunate it is that many wild animals are having to deal with human encroachment on their habitats, or the pollution and litter created and discarded by humans in their environments. Seeing this wild koala made me absolutely delighted. I could have watched it all day! Then again, I've never encountered koalas before my Australian adventure :o)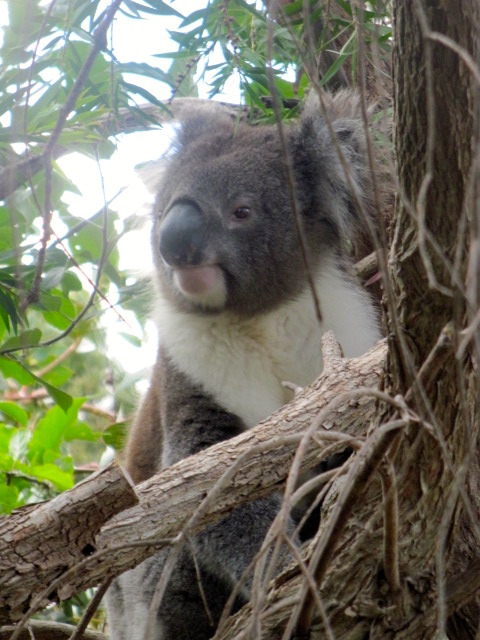 Let's Talk about Animals Further
Anyone who knows me, knows how much I love, respect, value, and appreciate living things and the natural environments. One of the things I love about Australia and its people is how connected and protective a lot of them are with their animals, oceans, and marine life. Canada, like Australia, has many wild animals and some are becoming increasingly urbanized, which creates unique challenges. As a result I find it important to educate yourselves on what you can do to keep the animals, and their habitats as safe as possible in the areas you live in. I read a lot about Koalas and marine life in Australia when I had a chance. Two websites I found interesting was Save the Koala, and the Australian Marine Conservation Society.
Thanks for reading up on my latest excursion. As always, I love to hear your thoughts or comments, or anything about the natural environment where you are from. Don't forget you can also follow me on Facebook, Twitter, and Instagram.